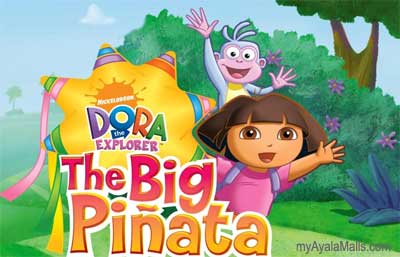 Explore the World of Dora Live at the Ayala Malls

TriNoma
Activity Center
August 13, 2009 – 6pm
August 14, 2009 – 3:30pm & 6pm
August 15-16, 2009 – 1pm, 3:30pm & 6pm

Get the chance to meet and greet your favorite adventurer at the TriNoma Level 4 Cinema Lobby on August 13 (4pm) and on August 14 (1pm)!
Alabang Town Center
Activity Center
August 21-23, 2009
11:30AM, 3PM & 6PM

Glorietta
Glorietta 5 Atrium
August 28-29, 2009
11:30AM, 3PM & 6PM

Greenbelt
Greenbelt 3 Park
August 30, 2009
4PM & 6PM
Market! Market!
Activity Center
September 4 - 6, 2009
1PM, 3:30PM & 6PM

September 3, 2009 - 5PM
Meet and Greet Dora at the New Wing Entrance, Ground Floor
Meet & greet the gang at the Pavilion Mall on August 18-19, 2009 - 3PM & 6PM.
Mechanics for Dora Activity Fun Page
1. Answer the Dora activities completely and submit the activity page together with the raffle coupon to any Ayala malls Concierge from July 25 to September 2, 2009.
2. Every week, 90 lucky kids* will win tickets to see Dora live at the Ayala Malls.
3. The winners will be drawn on the following dates: August 11 (TriNoma)**, August 19 (Alabang Town Center), August 26 (Glorietta), September 2 (Market! Market!)
4. The winners will be notified through a phone call and a text message. Winners may claim their show stubs at the Ayala Malls concierge and must show a valid ID and the text message notification.

*10 kids per show time for 3 days.
**Please see Tupper board for details.