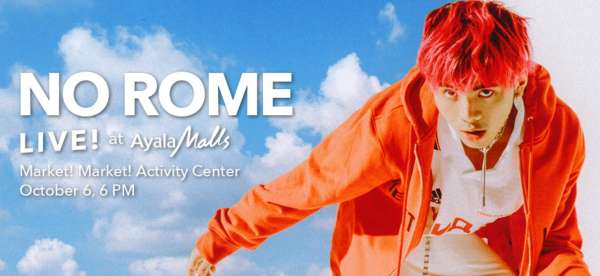 No Rome Live at Ayala Malls! Catch them as they perform at Market! Market! on October 6.
Oct. 6, 2019
Market! Market! Activity Center, 6 PM
How to get concert tickets:
1. Purchase cinema gift cards from the Market! Market! Cinema ticket booth from September 6 – October 5, 2019.
2. Present cinema gift cards at Market! Market! Ground Floor Concierge starting September 16, 2019 until October 5, 2019 during mall hours beginning 10:00 AM to claim your ticket/s. Below are the equivalent number of No Rome concert tickets in exchange for the purchased cinema gift cards.
Two (2) cinema gift cards - One (1) General Admission – Standing Room
Four (4) cinema gift cards - One (1) Patron Seat
Six (6) cinema gift cards - One (1) VIP Seat with Meet & Greet
3. Only a maximum of four (4) concert tickets per customer shall be allowed for redemption.
4. Ayala Malls reserves the right to validate the receipts. Receipts that are defaced, crumpled, tampered or receipts lesser than ¾ its actual size will not be honored.
5. Present your No Rome concert ticket at the entrance of Market! Market! Activity Center.
6. Event gates open at 3:00 PM on October 6, 2019
7. No No Rome concert ticket, no entry.
8. No Rome concert ticket must be carried at all times. Tampered, torn or damaged tickets will not be accepted for entry into the concert venue.
9. No Rome concert tickets are non-refundable.